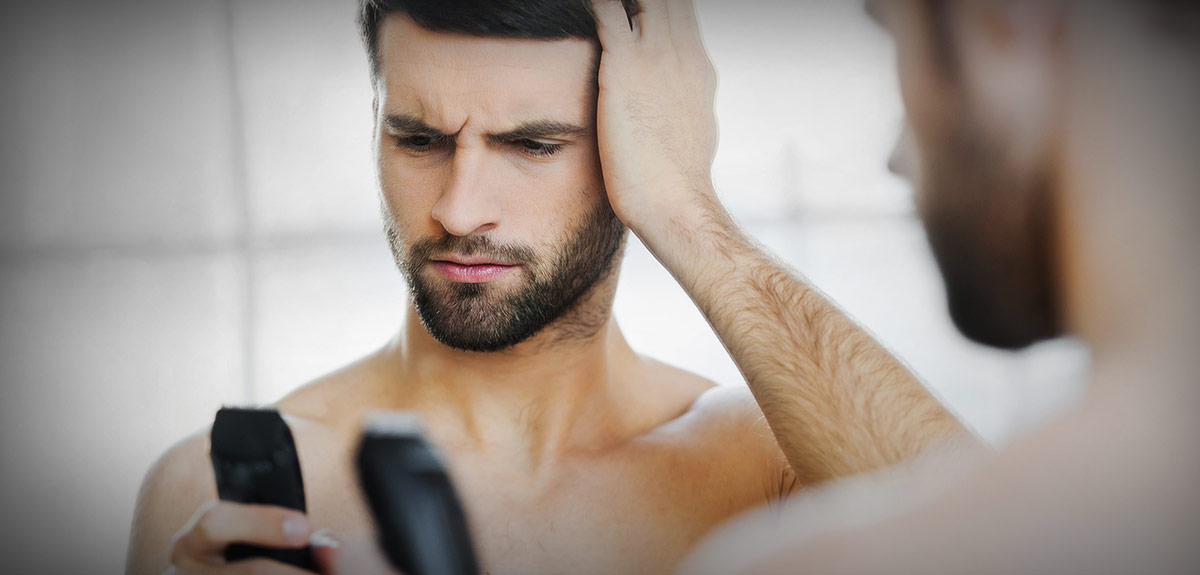 Ditch your electric razor: Why manual shaving will give you a better shave
It's easy to agree on the fact that breakthroughs in technology in the last decade have made our day-to-day lives way more convenient. The magic of shopping on Amazon and receiving two-day shipping is still as awesome and life-changing as it was when it first began, for example. And with smart phones, we're basically walking around with a small, high-powered computer in our pockets that are capable of storing and sharing information that we otherwise wouldn't have access to.

But in some cases, the added tech just doesn't pay off like it should. The electric razor for instance, was a revolutionary product that at the time was marketed as safer, more convenient, and less of a mess. But if you've read Shave Talks before, you know the difference between a good shave and a great shave can make a huge impact on your day. And if you're relying on an electric razor to give you a good clean shave, it may be time to rethink your process. We've gathered the reasons why it's time to unplug that electric razor and move onto a manual razor that will fine-tune your shave and give you the smooth, long-lasting results you deserve.

Electric razors don't shave as closely as manual razors
The blades of an electric razor are covered by a thin layer of metal that features dozens of holes or slots to trap hair before the oscillating blades beneath the perforated steel remove the hair. The blades themselves never come in contact with the surface of your skin, and will only cut away the hair that's managed to enter the holes. If you have fine hair, this is likely a problem. But with a manual razor, the blades are actually positioned to safely move across the surface of your skin and are able to cut away hair as close to the follicle as possible – yielding a super close, long-lasting shave that an electric razor simply can't compete with.

Good luck if they're not properly charged
Electric razors require a power source. If you forgot to charge your razor, or if it wasn't properly placed on its charging dock, you could be waking up to find that your morning shave will have to be postponed until it's recharged. Or worse, your electric razor dies on you when you've only shaved one side of your face. And that could mean showing up to work with some mean stubble or some crazy new facial hair-style that you never signed up for. With a manual razor, you're just a sink and some shaving cream away from your best shave yet. Sure, you won't be able to shave in traffic, but sometimes sticking to the basics is better.

Cleaning and Maintenance
Cleaning your electric razor isn't as simple as swishing it under some warm running water. This is especially tricky if your electric razor isn't water friendly. If your electric razor isn't built for water, you'll have to give it a scrub with a special cleaning brush or an old toothbrush. Then there's the rubbing alcohol you'd have to use make sure you've cleaned out all the built-up gunk, and the issue of having to wait until your razor has air dried before putting it back together again. Not to mention the additional lubrication you'll need to apply to the electric razor head to avoid irritation. With a manual razor, cleaning is as simple as blasting some hot water through the cartridge head and maybe applying a light tap or two against the sink's edge to dislodge any remaining debris. No brush or additional lubrication required.

The bottom line: manual razors will still give you a closer and smoother shave than their high-tech counterpart. Since electric razors only graze the surface of your skin, require batteries and fancy charging docks, and are a pain to clean and maintain, the choice between an electric razor and a manual shaving system isn't really all that difficult. Choose the shave your skin deserves and opt for a manual razor that will give you a smooth, clean shave.

Still having a hard time choosing between the two? Lucky for you, Dorco has combined the power of an electric razor with the precision of a manual shaving system. The Pace Power couples 6 micro-positioned blades with a battery-powered handle that offers a light vibrating touch to prep and lift hair which creates an effortless and comfortable shave. Plus, the patented Venetian Flow technology allows for easy rinsing. And since all Dorco products are priced at up to 75% less than the cost of leading brands, you'll be taking advantage of the power of an electric razor at a fraction of the price.