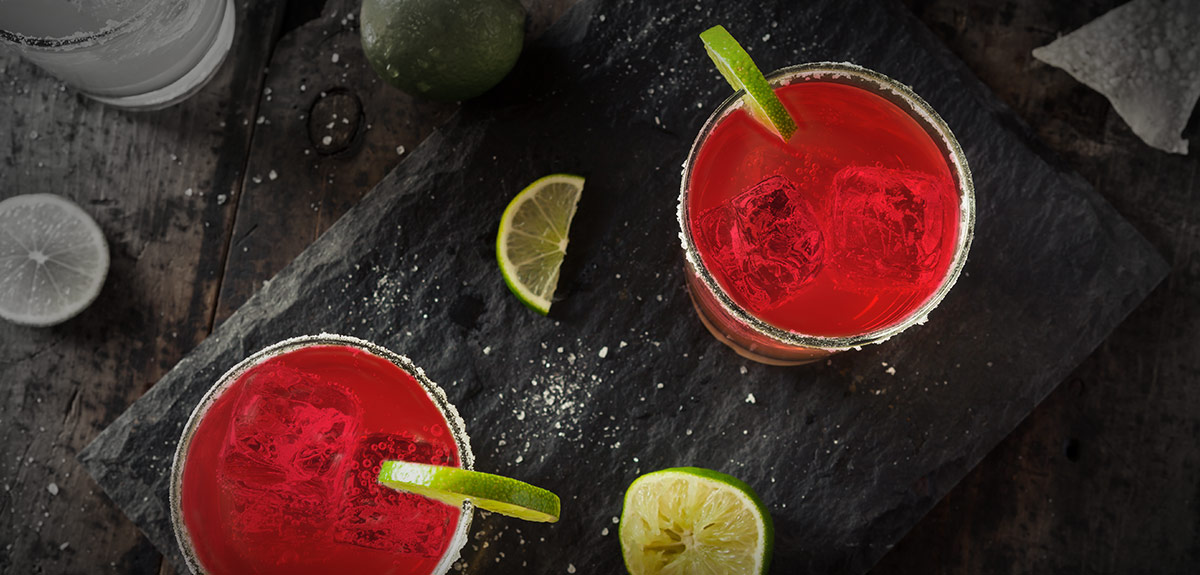 How to mix the perfect margarita
Summer is heating up. That means the barbecues, cookouts, and daytime get-togethers are going to be picking up as well. And instead of bringing your usual dish, which for some of you means a 10-ingredient pasta salad or for others means a bag of hot dog buns, why not bring a drink instead? Something refreshing and cold. Something sweet and tangy, maybe with a hint of salt.

When it comes to enjoying a drink with friends during the warmer months, there's one drink that reigns supreme. The margarita. It's the perfect balance of citrus-fresh flavors with just a splash of sweetness – all rounded out by the earthy notes from a good tequila.

This is our spin on the classic margarita. We stripped down the sweet and tangy elements to their original form and added our own twist: pomegranate juice. At first glance the recipe may sound too tart, but after your first sip this drink may change your perception of how a summer cocktail should taste. It's dimensional, bright, and complements everything you'll have cooking on the grill. Plus, you can add as much simple syrup to the recipe as you like if you enjoy your drinks on the sweeter side.

Be the hero of your next cookout. Skip the pre-mixed plastic jugs and read on for the only margarita recipe you'll ever need this summer.

Recipe Makes 7-8 Individual Margaritas.
What You'll Need:

A citrus juicer. Juicing the limes yourself is a tad more labor intensive than measuring juice out of a bottle, but trust us. You'll want to use real limes for those big, fresh flavors. The fresh-squeezed lime juice is just one of the elements that takes this recipe to the next level.

Simple Syrup to taste

3 cups 100% pomegranate juice, unsweetened

20 small limes to make 2 cup of juice

1.5 cups (8 shots) 100% Agave Silver Tequila

Sea salt

Ice. Preferably the pellet or "nugget" shaped ice. This is another key ingredient. The ice will keep its shape as it melts and balances the drink out. This kind of ice also provides a textural element by being chewable, which will only add to the experience.
Instructions:

To make simple syrup, dissolve 1 part sugar in equal parts boiling water. Let cool.

Stir the lime juice, pomegranate juice and tequila together in a large pitcher, preferably one that comes with a lid. Add the simple syrup to your liking. Then stick it in the fridge to chill.

To salt the rims of the glasses, wet the rims of each glass with a wedge of lime or by pouring a few teaspoons of lime juice into a saucer and turning each glass upside down into it. Then shake some salt into another saucer and dip the whole rim or half of the rim.

Add a good amount of ice to each and pour the margarita into each glass. The ice will help balance the drink out as it melts.

And there you have it. The perfect margarita. Sip with friends, preferably on a sunny day with a slight breeze, out on a patio or backyard with a solid, summer playlist.
If you make this margarita, show us your skills! Share your photos on Instagram and Twitter with #ShaveTalks and #Dorco!

For a drink this smooth, you'll probably want an outfit and a look to match. And every great summer look starts with smooth, glowing skin. For women, try the Shai Soft Touch for a smooth, long-lasting shave. The dual 3-blade platform hinges and flexes in the middle to keep in close contact with every unique contour. For men, the Pace 7 will get your face smoother than ever before with 7 micro-positioned blades set on a pivoting blade cartridge to eliminate hair beneath the surface. And since Dorco shaving systems are priced up to 75% less than the cost of leading brands, you'll feel good enough to splurge on a fancy tequila for the next party.