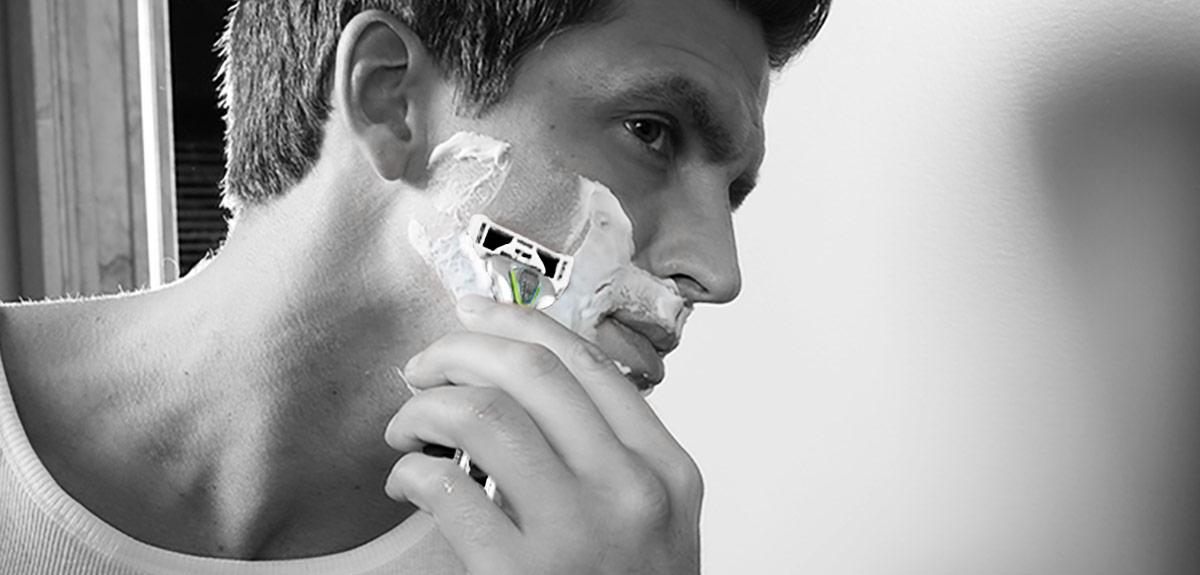 Soothe razor burn once and for all
Razor burn doesn't have to be a part of your daily shaving routine. We've rounded up a few tips to soothe angry skin and advice on proper pre-shave protocol to ensure that you're next shave doesn't yield the same burn.
Here are a few tips for immediate relief:

Cold Compress:
Bringing the temperature down will help fight inflammation and immediately soothe irritation. Place a few ice cubes in a plastic bag and wrap the bag in a towel to protect your skin from direct contact and hold over the affected area. A washcloth soaked with cold water will also do the trick if you're in a pinch.

Witch Hazel:
Dab some witch hazel on with a cotton ball or use regularly as an aftershave tonic to soothe inflammation and itching. The anti-bacterial tannins that naturally occur in witch hazel work to prevent the occasional break-out as well.

Aloe Vera:
Unless you have the actual plant handy, take a small amount of the bottled gel and smooth over the affected area to immediately calm redness and relieve irritation. Aloe Vera also helps to provide vital hydration to your skin's natural moisture barrier, ensuring your next shave will be more comfortable.

Aspirin:

Crush up an aspirin with a little water to form a paste and then layer it on the irritation. The salicylic acid will help calm the burn and also help liberate any ingrown hairs that may cause painful razor bumps.
Remember that prevention is always better than scrambling for relief. Read on to learn how to prepare for your next best shave.

Hot then Cold:
Always use plenty of hot water during your shave to prep the hair as well as your skin. Plan to shave immediately after stepping out of a hot shower to take advantage of the humidity. Or if shaving in the shower is easier for you, invest in a no-fog mirror. Make sure to take your razor out of the shower and dry it off completely to avoid bacteria growth. When you're done shaving, splash with cold water to tighten those pores back up for a smooth finish and to protect against bacteria.

Lather Quality:
Don't skimp when it comes to the right kind of shaving cream. A canned foam is mostly air and doesn't provide your skin with enough moisture to protect it during a shave. Use a shaving cream with both hydrating and calming properties, like Aloe Vera and willow bark, to ensure you're doing all you can to protect your skin's moisture barrier.

Skincare:
When it comes to razor burn, it's important to go further than simply adjusting your shaving routine. Dermatologists recommend moisturizing both day and night to keep skin hydrated rather than waiting till problems arise to slather on lotion. And keep away from products containing alcohol or astringent cleansers—they're often too harsh, especially on freshly shaven skin, and can dry you out even further.

One Fell Swoop:
If you're skin is already irritated, don't go over with a second pass with your razor. Give your skin some time to replenish itself before attempting a closer shave. If you absolutely must take two strokes, remember to re-lather.

Along the Grain:
Shave along the grain instead of against. Going against the grain will aggravate skin more than it's worth. Instead, experts suggest gripping the razor so the blade is vertical rather than horizontal and shaving cross-grain from ear to nose. Everyone's growth patterns are different however, so make sure to get to know the directions in which your stubble grows before wielding a razor.
Whenever possible, skip the shave entirely and give your skin a break.
If razor burn is a constant worry, you may want to take some time to find the right shaving system that will work for your skin. Dorco invites you to try the Pace 3 & 4 Try Me, which features both a three blade cartridge and a four. Its tilting head glides easily over angled terrain and problem areas, and its built-in rubber fin preps and aligns hair for removal. The Pace 3 & 4 Try Me is the perfect razor system for shavers who struggle with post-shave irritation and are looking for a simple but technologically advanced razor to provide single-stroke solutions. The selection of blade cartridges gives you the choice of how much or how little blade action you require. And at a price of 35% less than the leading brands, the choice is all yours at a fraction of the cost. Feel the technology and value the difference.