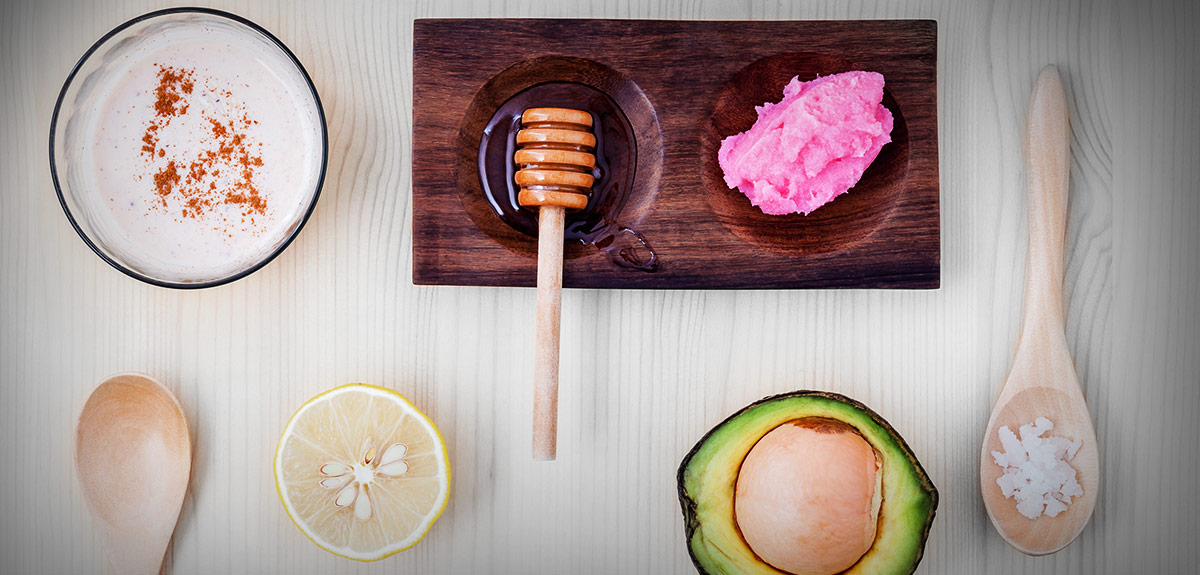 The 5 DIYs to perfect your shave
Even after finding the right razor and changing your blade cartridge regularly, annoying irritations like dry skin or ingrown hairs can still arise. If you have especially finicky skin, a successful, smooth shave may sound like a total myth. Not so with these five simple DIY recipes for exfoliating scrubs and calming masks. And many of the ingredients are likely already in your pantry. Hard to pass up when smooth, nourished skin is just a walk-to-the-kitchen away.

Invigorating Coffee Scrub
If you're serious about your daily cup of Joe, you're already familiar with coffee's miracles. In a similar way, coffee exacts the same magic on your skin by brightening and nourishing. This scrub targets dull, dry skin in need of a pick-me-up. Coffee is a powerful antioxidant and when applied topically, the caffeine fights inflammation and works to increase blood flow. Plus, the coffee grounds will work to buff away dead skin while the olive or coconut oil, depending on which you use, moisturizes and delivers an extra punch of antioxidants. And ladies, if you use this scrub on your legs and hips, you may even see a decrease in cellulite over time.

Ingredients:
1 cup ground coffee
1/2 cup olive oil or organic coconut oil

How to:
Mix ingredients together and store in an airtight container in a cool, dry place. Scrub in gentle, circular motions. If using on your face, avoiding your eye area. Rinse with warm water.
Coconut Oil and Sugar Scrub
Ah, the mystical coconut oil. The benefits of coconut oil are all the rage right now amongst health food connoisseurs and regular consumers alike. And for good reason. When applied to your skin, the high quality fats in coconut oil retain and protect your skin's natural moisture barrier. The fatty acids also deliver strong antimicrobial and disinfectant properties that will help protect your body from possible infections while the vitamin E and proteins will help keep skin strong, smooth, and regenerative. The fine-grained granulated sugar will also help scrub away any dead skin and as a natural humectant, it will help lock in moisture as the glycolic acid encourages cell regeneration. Buff on this delicious-smelling scrub and say hello to smooth, silky skin. Just a note: If you do use this scrub on your face, make sure to rinse really well, as coconut oil may clog pores for some.

Ingredients:
1/4 cup organic coconut oil. If solid, let the jar or container of coconut oil sit in a bowl or sink of hot water to melt it to its liquid state
1/2 cup and 2 Tbsp granulated sugar
3-5 drops of an essential oil of your choice (optional)

How to:
Mix coconut oil and granulated sugar together until well-combined. If you want to add an essential oil, like lavender or lemon, add a few drops before mixing. To create a more luxurious consistency, whip it with a stand mixer on medium until it's adequately fluffed.
Gently scrub in a circular motion on an area of your choosing and hop in the shower to rinse it away.
Raw Honey and Sugar Scrub
This scrub is ideal for those of us that are dealing with problem skin and want to address acne or calm skin irritation naturally and effectively. The honey's natural antibacterial properties help fight and prevent acne, while the powerful antioxidants and moisturizing properties help you retain a youthful, smooth glow. Remember to find a honey that's labeled "raw". Most honeys (like the ones in the quintessential bear bottle) are pasteurized and void of all the benefits.
If you want to add an extra step, wear this scrub as a facemask after exfoliating and wait 10-12 minutes before rinsing.

Ingredients:
1 tablespoon raw honey
1 tablespoon granulated sugar

How to:
Mix ingredients together and store in a small jar with an airtight lid at room temperature. To use, start with a freshly washed face then wet with water. Apply a small amount of the scrub in a circular motion, avoiding eyes, and use very little pressure. Then rinse well and pat dry. If you're using this scrub as a mask as well, leave it on for 10-12 minutes before removing.
Raw Honey and Aspirin Exfoliating Mask
We've already extolled on the numerous skin benefits of honey, but did you know that aspirin has powerful benefits when applied topically as well? Aspirin contains properties very similar to salicylic acid which helps to scrub away dead skin. This is an especially great mask to apply if you're dealing with ingrown hairs. The aspirin will work to loosen and free the trapped hair while the honey purifies, calms, and hydrates. If your shaves always lead to those painful, pesky razor bumps, try integrating this exfoliating mask into your weekly routine.
If you want to add an extra step, wear this scrub as a facemask after exfoliating and wait 10-12 minutes before rinsing.

Ingredients:
2 uncoated aspirin
A small dollop of raw honey (amount depends on desired consistency.)

How to:
Add the water to the aspirin and mix and crush with the back of a spoon to make a paste. Add the honey and mix until well-combined. Apply to the affected area, making sure to avoid the area around your eyes if you're using on your face, and let dry for ten minutes. Then rinse thoroughly with warm water, taking care to wash away the mask completely.
Tea Tree Oil Scrub
This tea tree scrub is the perfect solution for those suffering from acne, which can impede your shave if a breakout occurs along your chin or cheeks. Tea tree oil is antibacterial and anti-inflammatory and has been shown to be just as effect as benzoyl peroxide (which is commonly used as an acne treatment) but much gentler. If you're struggling with breakouts, this scrub could help clarify and calm your irritated skin.

Ingredients:
1/2 cup organic coconut oil
1/4 cup granulated sugar
3-5 drops tea tree oil

How to:
Mix to combine all ingredients in an airtight container and store in a cool, dry place. Start with a clean face. Massage into face using small, gentle circular motions, avoiding eye area and then rinse thoroughly and pat dry.
By integrating these simple skincare hacks into your weekly regimen, you'll be enjoying smooth, healthy skin all from ingredients that are easily accessible, if not already in your pantry. And since good skincare is essential to a successful shave, you may as well use a razor that's perfectly matched for the job. Dorco's Pace 6 Pro for men is the perfect daily shaver. With state-of-the-art six-blade action and a triple-formula moisturizing strip, you'll be sure your skin is staying hydrated and protected after receiving a close, long-lasting shave. For women, Dorco presents the bestselling Shai Soft Touch. Equipped with a pivoting head, dual three-blades, and wide, moisturizing strips, this razor is ideal for gliding over curves and hard-to-reach places.